NEWYou can now listen to Fox News articles!
In December 2018, shortly after I was elected governor, President Trump invited several governors-elect to Washington to talk about our priorities and see where he might be able to help. Knowing the president's bias for action, I understood that bringing up matters we could tackle right off the bat would increase the chances of getting them done. They would also be far more likely to warrant the president's personal involvement.
"Mr. President, I need a farm bill and trade agreements done. Our farmers and ranchers need access to new markets to level out the playing field to continue to grow our nation's food supply." The president nodded.
"I'd also like to have your help with moving some opportunity zones," I went on. More nodding.
"And lastly, Mr. President," I said, "I'd like your help getting fireworks back to Mount Rushmore." He immediately perked up. "Fireworks? What do you mean?"
KRISTI NOEM SLAMS BIDEN ADMIN'S MOUNT RUSHMORE FIREWORKS BAN, SAYS DECISION IS POLITICAL PAYBACK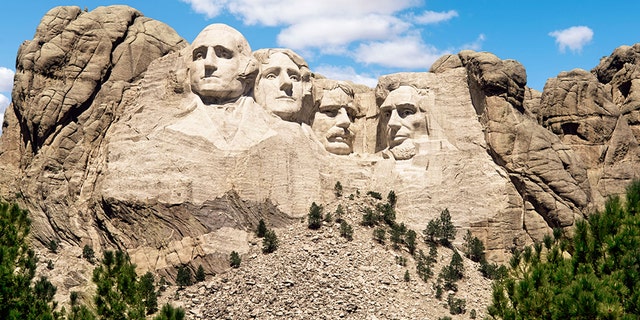 I told him that South Dakota had a long tradition of a fireworks celebration on top of Mount Rushmore every Fourth of July eve. But for ten years, I explained, the display had been canceled — ever since the Obama administration had barred them, claiming that the fireworks might trigger "environmental concerns."
"Mr. President, this is South Dakota's one opportunity to really become the focus of the nation for one night each year." Bringing fireworks back to Mount Rushmore would be an incredible tribute to freedom in our country —  a western sky lit with red, white, and blue fireworks illuminating some of our nation's greatest leaders. Beyond that, tourism is South Dakota's second-largest industry. Marketing our state on national television on America's birthday had always been incredibly beneficial for us.
It made sense to President Trump. And from that moment on, he was fixated on getting us our fireworks back.
My team and I worked diligently with the Department of Interior and the White House for almost two years straight on logistics and planning. Every time I saw President Trump in that time, without fail, he would ask, "Kristi, how are we coming along on our fireworks?"
"We are working it, Mr. President," I assured him.
The truth was that bureaucrats within his own administration were trying to stop it. For starters, the National Park Service (NPS) did not want to facilitate the event. NPS staff brought up fire concerns, water-quality concerns, cultural concerns, and, once the pandemic hit, health concerns. At one point, a staffer even asked, "How could this event offend people on Twitter?"
I kid you not.
SOUTH DAKOTA GOV. NOEM VOWS TO PROTECT MT. RUSHMORE: WE WON'T STAND FOR 'RADICAL…


Read More: Exclusive: Gov. Kristi Noem on fighting woke politics over July 4th fireworks at