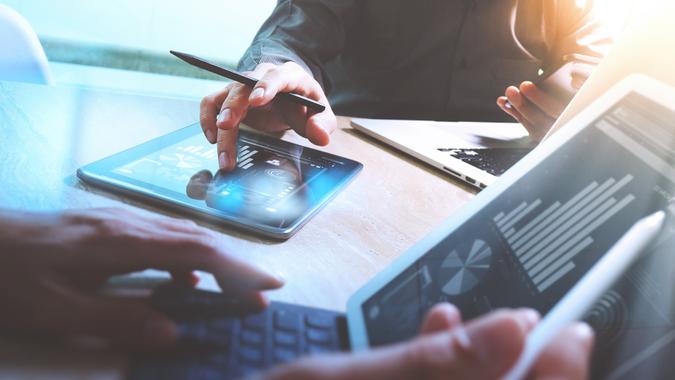 ©Shutterstock.com
A career in banking can be challenging, interesting, and, in many cases, lucrative. There are many different jobs in retail and commercial banking. Here are some of the best-paying ones.
9 Best High Paying Bank Jobs
Take a look at some of these high-paying bank jobs and their salaries to help you decide if this is the right career path you want to take.
1. Financial Manager
Average annual salary: $134,180
A financial manager prepares forecasts, business activity reports and financial statements for banks, non-profit organizations or businesses. They may supervise financial analysts and budget analysts. They ensure that all legal requirements are being met by monitoring financial details. They may analyze market trends to find opportunities and maximize profits.
To become a financial manager, you should have a bachelor's degree, preferably in business, finance, or economics, and at least five years or more experience as a financial analyst, accountant or stockbroker. 
According to the Bureau of Labor Statistics, the demand for financial managers is increasing. It's expected to grow 17% between 2020 and 2030, which is much faster than the average demand. 
2. Investment Banker
Average annual salary: $134,180 
Investment bankers work for large banks that facilitate financing for large corporations or organizations. When a company 'goes public' by issuing stock for the first time in an Initial Public Offering or IPO, an investment bank sets the price and manages the process. Investment bankers negotiate and execute these transactions.
The Bureau of Labor Statistics lumps investment bankers in with other financial managers at an average of $134,180 with five years of experience. But an investment banker can earn as much as $100,000 right out of college, according to Corporate Finance Institute. 
Investment banking is a very performance-driven role, so many firms pay relatively small salaries along with large performance bonuses. This leads to a culture of long hours and high stress.
To become an investment banker, you should have a bachelor's degree in finance or economics. Many investment bankers also have an MBA. You will need to be registered with the Financial Industry Regulatory Authority by taking the required exams. 
3. Financial Analyst
Average annual salary: $83,660 
Financial analysts study and evaluate current and past financial data to recommend individual…


Read More: 9 Highest Paying Bank Jobs and Salaries