A Russian state television host warned that the country is ready to confront NATO as tensions between Moscow and the West continue to escalate over the war in Ukraine.
Speaking on the state-controlled television Channel 1 on Sunday, television host Vladimir Solovyov said that Russia was only using 18 percent of its army in Ukraine and its military was fighting at "a peacetime" size so it was ready for "a direct confrontation" with the international military alliance if necessary.
Andrey Gurulyov, State Duma deputy and former deputy commander of Russia's southern military district, who was also speaking on the show, boasted that Russia's nuclear capability meant it can "liquidate all means of an attack that threaten the territory of Russia."
Responding, Solovyov said: "That's why it's understood why we're currently using less than 18 percent of our Armed Forces, which is our peacetime army because we are ready for a direct confrontation with the armed forces of the entire NATO."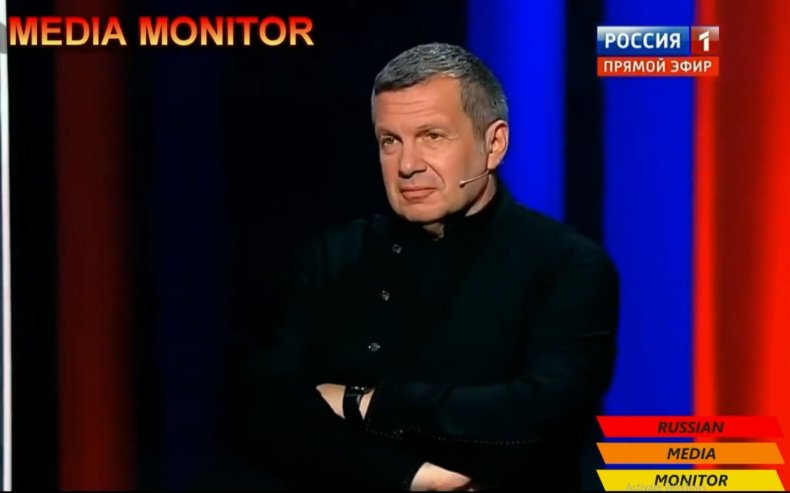 The two men were talking about the Suwalki corridor, a strategically important area southwest of the border of Poland and Lithuania, and the shortest land route from mainland Russia to its exclave of Kaliningrad. In the latest escalation in the five-month war, there threatens to be a stand-off over the Russian enclave. Moscow has threatened unspecified "retaliation" over overland curbs on shipments to Kaliningrad.
Gurulyov noted that the size of the Suwalki corridor would satisfy Russia.
"Everyone was arguing over Lithuania. What kind of Suwalki corridor do we need? All the way to the [Baltic] sea. It's like they're talking about the corridor from the kitchen to the living room—20 kilometers, 40 or 60 kilometers..what should it be? To break through for a corridor where NATO forces would be on both sides?" he said.
"Not one normal member of the military would go for it. We need to break through for a corridor from St. Petersburg along the Baltic Sea coast. Only then will we have a normal supply route for the city of Kaliningrad," he added.
He said if other countries do not see it way, Moscow will need to "thoroughly explain it," without the need to involve Belarus, Russia's neighbor and ally.
The two men then moved on to the topic of nuclear weapons.
Solovyov said that political leaders in the West were "having heart attacks" when Belarusian President Alexander Lukashenko and Russian counterpart Vladimir Putin had a conversation about Iskander missile systems and Sukhoi jets.
Gurulyov said that the Iskander stationed along Beralrus's western border would cover "100 percent" of Western Europe, as it has an operational ranger of up to 500 kilometers. The missile system can…


Read More: Russia Ready for Direct Confrontation With All of NATO, State TV Host Says