NEW DELHI: The Maha Vikas Aghadi coalition government in Maharashtra seems to be on its way out with the
Shiv Sena
staring at a split down the middle, barring last minute surprises.
For chief minister Uddhav Thackeray, it is set to be a double whammy. He will not only lose the CM's chair, but will also lose his grip on the party with most of his MLAs siding with rebel Eknath Shinde.
Shiv Sena leader Sanjay Raut, who is known for his aggressive public posturing on issues concerning the party, has already hinted that they may have lost this battle.
In his tweets, he has spoken about the possibilities of losing power, dissolution of assembly.
"At the most what will happen.. Our government will lose the majority in the state. We can always return to power, but the party's image is above all," Raut said in one of his tweets.
"The ongoing political crisis in Maharashtra is heading to the dissolution of Vidhan Sabha," the Sena leader said in another tweet.
With Eknath Shinde flaunting numbers from Assam, where the dissident MLAs are now lodged, there is very little that Uddhav Thackeray can do to save his government.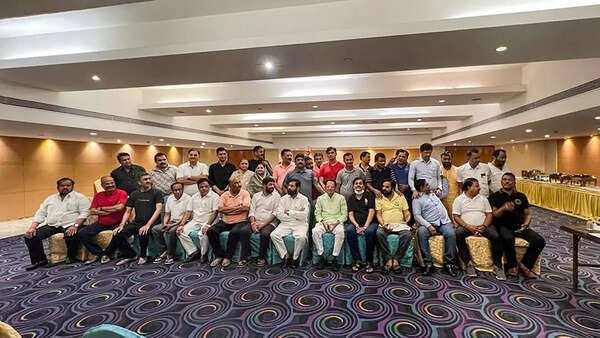 A resolution seems unlikely with the rebels demanding that Shiv Sena sever its ties with the Congress and the Nationalist Congress Party (its current allies) and return to the BJP's fold.
The fact that chief minister Uddhav Thackeray is now down with Covid does not help matters for the Shiv Sena.
This is not the first time that the Shiv Sena has lost its top leaders. The party has seen at least three high-profile exits till now – Raj Thackeray, Chhagan Bhujbal and Narayan Rane – but has managed to bounce back each time.
However, this time it could be different.
Eknath Shinde has claimed that he has support of nearly 40 Shiv Sena MLAs. If that turns out to be true or even if he is anywhere close to that number, it will be difficult for Uddhav Thackeray to maintain his hold on the party.
The Shiv Sena has 55 MLAs and the dissidents need 37 to stay away from the provisions of anti-defection law, which means they will be allowed to together decide the future course of action..
Eknath Shinde has cleverly used the 'Hindutva' card and the name of late Shiv Sena founder-supremo Balasaheb Thackeray to attract Sena MLAs to his side.
"We are Balasaheb (Thackeray)'s staunch Shiv Sainiks. Balasaheb has taught us Hindutva. We have never and will never compromise on the teachings of Balasaheb and 'dharmaveer' Anand Dighe for power," Shinde had said in his first tweet on Tuesday after leading the rebellion.




Read More: Maharashtra Politics News: Will Uddhav Thackeray lose both – his government and